Sejumlah anak-anak muda relawan yang tergabung dalam RTV akan menggelar konser bertajuk Rock The Vote: #MelawanLupa sebagai salah satu sarana edukasi melalui hiburan musik kepada anak-anak muda, khususnya para pemilih pemula agar tidak menjadi golput atau salah memilih calon presiden pada Pilpres 2014 mendatang.
Konser ini akan menampilkan Koil, /rif, Payung Teduh, Trio Lestari. Selain pertunjukan musik, Rock The Vote juga menghadirkan Sammy (stand up comedian) , pembacaan puisi oleh Dinda Kanya Dewi, Rieke Dyah Pitaloka, Pangeran Siahaan dan juga testimoni dari Rahardjo Waluyo Jati & Mugiyanto.
Rock The Vote: #MenolakLupa dilaksanakan pada hari Rabu, 11 Juni 2014 di Rolling Stone Cafe Jl. Ampera Raya No.16 Jakarta Selatan dengan harga tiket masuk sebesar Rp 50.000,- .
Datang dan ramaikan acara Rock The Vote #MenolakLupa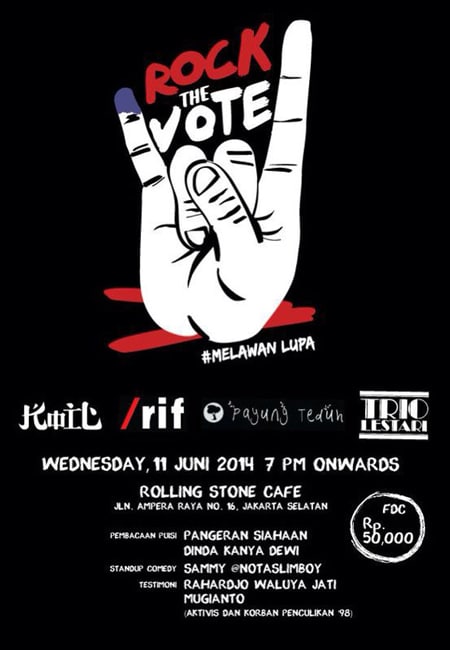 Related Posts