Air Supply Akan Tampil Di Jakarta Bulan Maret Mendatang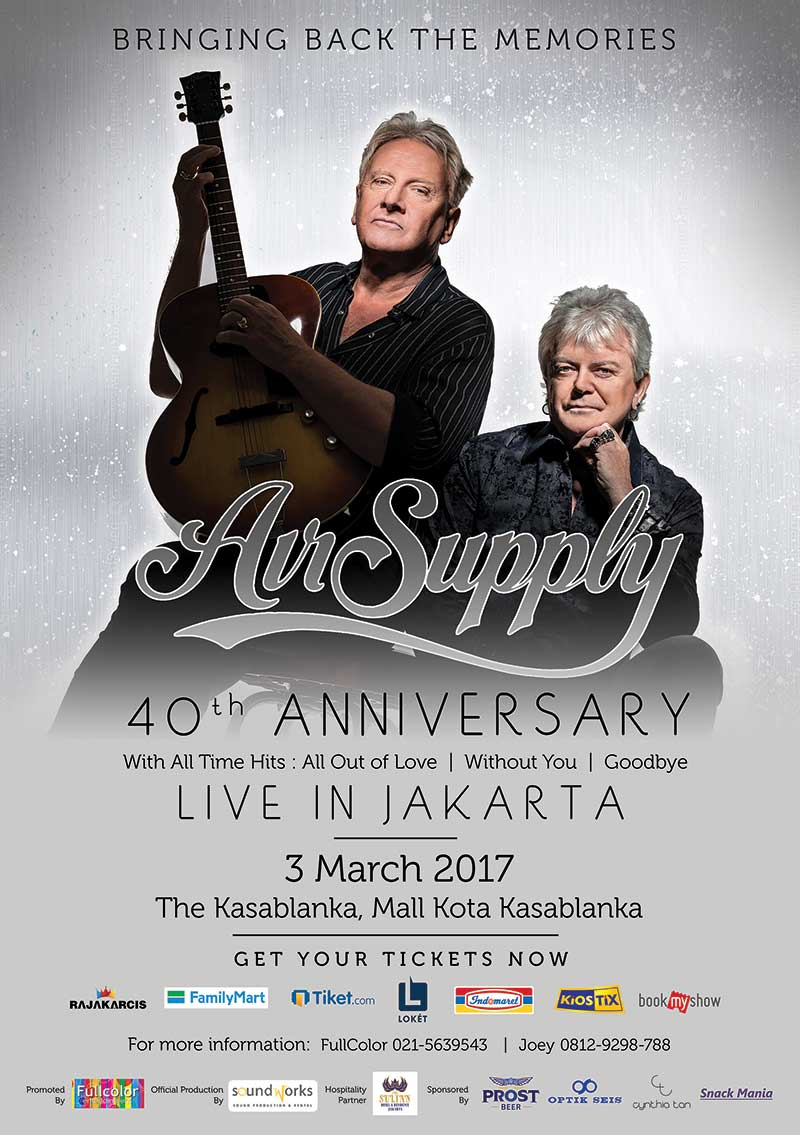 Konser Air Supply yang sempat di tunda bulan Desember lalu dikarenakan Russel Hitchcock yang mengalami sakit dan terpaksa tur di beberapa negara di Asia termasuk Indonesia terpaksa dibatalkan, saat ini jadwal tur Air Supply terbaru 2017 telah di jadwalkan ulang dan Air Supply akan tampil di Jakarta pada tanggal 3 Maret 2017 di The Kasablanka Hall – Mall Kota Kasablanka Jakarta.
Jadwal tur dunia Air Supply 2017 telah resmi diumumkan termasuk konfirmasi tanggal pasti di Jakarta yang juga telah masuk di agenda tur Air Supply di tahun 2017 untuk informasi lebih lengkap dapat dilihat di website resmi Air Supply di http://www.airsupplymusic.com/tour
"ini berita gembira bagi fans Air Supply di Indonesia, karena Indonesia menjadi negara pertama di Asia untuk tur di Asia di tahun 2017 ini, bagi penonton yang telah mendepositkan uang tiketnya bulan lalu tidak perlu khawatir karena sudah pasti tiketnya sudah ada di data kami, bagi yang ingin membeli ulang silahkan untuk segera membeli tiketnya kembali di gerai tiket box resmi kita seperti di Rajakarcis, FamilyMart, Loket.com, Indomaret, KiosTix, ibu Dibjo atau di kantor Full Color Entertainment di Mall Taman Anggrek, semoga konser ini akan mengobati kerinduan fans Air Supply karena tertunda bulan Desember lalu, well Bringing Back the memories.. karena penjualan tiket Desember lalu Sold Out, nah sebelum kehabisan beli tiketnya sekarang juga ". Ungkap David Ananda selaku Managing Director Full Color Entertainment.
David Ananda menambahkan "Sebenarnya Air Supply sangat sedih dengan tidak bisa tampil di bulan Desember lalu, baik Graham & Russel sangat ingin bertemu fans-nya di Jakarta karena mereka tahu bahwa tiket pertunjukan kemaren di Jakarta Sold Out, tapi karena kondisi kesehatan Russel Hitchcock yang tidak memungkinkan terpaksa harus dijadwal ulang, akhir Desember kemaren mereka sempat mengirimkan surat kepada kami bahwa mereka siap untuk tampil kembali mengobati kerinduan bertemu para penggemarnya di Indonesia"
Berikut kutipan e-mail dari Graham & Russel kepada Full Color Entertainment:
To everyone around the World who enjoy our music and our shows, we send you a message of love & togetherness for this end of year season. Whatever your culture or faith, we hope our words will be met with the sincerity & kindness by which they are sent.
Wherever Air Supply travels, it is like discovering a place for the first time. There are always twists & turns that are waiting to be discovered at the right time. In early December, Russell and I postponed several shows for the very first time due to sheer exhaustion and trying to do too much! It is a reminder that none of us are above the natural law of rest when it is needed. We have learned that our stride must be tempered with logic & common sense. The shows that were postponed are currently being rescheduled. The shows for Indonesia will be performed in March. Thank you all for your patience!
With incredible enthusiasm & excitement, as we tune up & turn it on for the new year, Air Supply is looking forward tremendously to 2017.
The new year will be another chapter for Air Supply in so many ways as we continue to urge everyone to spread kindness and love around the world. Help those in need, with actions, words, anything that you have to give. In doing so, you are making this beautiful World a better place for all of us!
With love always,
Graham & Russell
Bringing Back The Memories, sudah siap untuk nyanyi lagu-lagu hits Air Supply pada konser Air Supply 40th Anniversary – Live in Jakarta pada tanggal 3 Maret 2017, di The Kasablanka Hall, Mall Kota Kasablanka, Jakarta Indonesia; yang dipersembahkan oleh Full Color Entertainment.
Informasi Harga Tiket konser Air Supply:
Beberapa kategori harga tiket telah disiapkan untuk kenyamanan penonton sebagai berikut:
Diamond VVIP (numbered seating) Rp 2.500.000,-
Platinum (free seating) Rp 1.500.000,-
Gold (free seating) Rp 1.000.000,-
Silver (standing) Rp 750.000,-