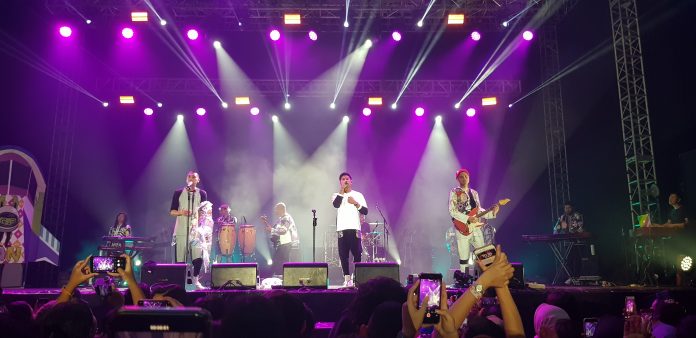 RAN yang terdiri dari Rayi, Asta dan Nino, tampil di Banana Stage di hari kedua We The Fest, Sabtu (20/07/2019), di JIExpo Kemayoran, Jakarta.
Sebelum mereka tampil, ada tampilan visual yang menggambarkan ada planet yang mengalami masalah dan Asta, Rayi dan Nino akan menjadi penyelamatnya.
Membuka penampilan dengan membawakan lagu 'Selamat Pagi' yang kemudian dilanjutkan dengan lagu 'Sepeda'.
"Senang sekali kita bisa tampil di We The Fest," ujar Rayi.
Penonton yang didominasi remeja, menyanyikan seluruh lagu oleh RAN yang dibawakan.
"Apa kabar semuanya? Sehat? Kondisi hatinya sehat semua disini? Ada yang lagi berbunga-bunga lagi jatuh cinta?," hal itu diutarakan Nino.
Kemudian, mereka membawakan lagu 'Jadi Gila'.
RAN tampil membawakan single terbaru mereka bersama RamenGvrl.
"Single terbaru kami akan keluar bulan depan," ucap Rayi.
Selanjutnya, mereka membawakan 'Kulakukan Semua Untukmu' dan disambung dengan 'Hanya Untukmu'.
"Kita santai-santai dikit dulu ya, ada yang kangen sama orang? Ada yang kangen sama pacar orang disini?," kata Nino.
Kemudian, mereka membawakan lagu 'Dekat di Hati'.
RAN menutup penampilan mereka dengan membawakan lagu 'Pandangan Pertama' di lagu ini Rayi, Asta dan Nino tampil dengan pakaian pada saat mereka pertama kali syuting video klip di lagu tersebut.
Teks: Ryan Abdul Aziz
Foto: Ryan Abdul Aziz