Summer in Vienna Mengadakan Release Party Single "We're in Love Again"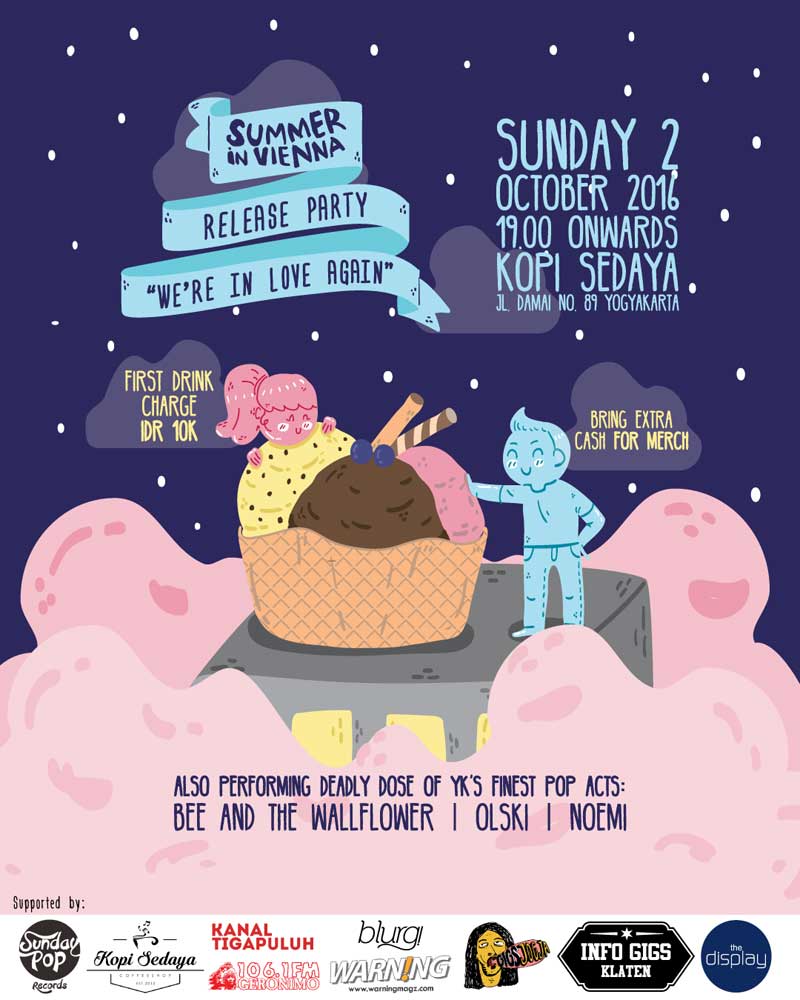 Setelah merilis single "We're in Love Again" melalui indie label Sundaypop Records secara digital pada 18 September 2016 lalu, band indiepop asal Yogyakarta, Summer in Vienna mengadakan acara release party yang akan dilaksanakan pada:
Hari/Tanggal: Minggu, 2 Oktober 2016
Waktu: Open Gate 18.30 WIB
Gig Starts 19.30 WIB
Tempat: Sedaya Coffee, Jl. Damai No. 89 Yogyakarta
Sebagai pembuka, ada tiga pop act dari Yogyakarta yang akan menemani penampilanSummer in Vienna, yaitu: Noemi, Olski, dan Bee and The Wallflower.
Noemi
Noemi terbentuk dari komunitas musik Sastra Budaya di Fakultas Ilmu Budaya UGM. Beberapa waktu lalu juga mereka mengunggah single yang bisa didengarkan melalui Soundcloud.
Olski
Olski adalah band dengan 4 personil asal Yogyakarta. Memainkan musik pop akustik, lagu lagu yang mereka bawakan bercerita tentang kehidupan sehari-hari, layaknya diary seorang gadis kecil.
Bee and The Wallflower
Bee and The Wallflower adalah project terbaru dari dua personil Chick and Soup, Nikolas Nino dan Margareta Dana. Ini adalah penampilan perdana mereka!
Single We're in Love Again milik Summer in Vienna bercerita tentang perasaan yang kembali muncul melalui cara yang tidak terduga, sebatang cokelat dan sesendok es krim. We're in Love Again dirilis dalam format digital oleh label Sundaypop Records dan dapat diunduh di berbagai platform musik digital seperti Spotify, Dezeer, iTunes, dan Amazon.
Single We're in Love Again direkam di HG labs dan Flo Studio Yogyakarta, dibantu oleh Hengga Tiyasa sebagai sound engineer dan Dellana Arievta sebagai visual designer. Bersama dengan dirilisnya single ini, kami juga memperkenalkan formasi terbaru Summer in Vienna yaitu Matias Sri Aditya (vokal, gitar), Christiana Megastra Cendrawasih (vokal), Wafiq Giotama (bass), Rizki Baruna Aji (gitar) dan Anindita Bramasto (drum).
Kontak: Rama Putra (0813-9167-0455), Tata (0831-7766-0390)