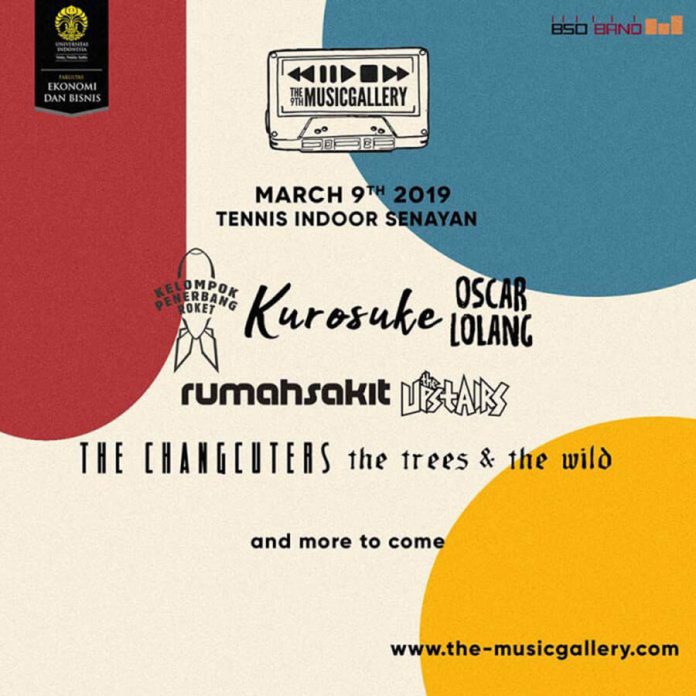 Music Gallery merupakan festival musik dan seni tahunan yang diselenggarakan oleh BSO Band, Fakultas Ekonomi dan Bisnis Universitas Indonesia. Pelaksanaan Music Gallery telah memasuki tahun kesembilan dan tahun ini akan diadakan bertepatan dengan Hari Musik Nasional pada hari Sabtu, tanggal 9 Maret 2019 di Tennis Indoor Senayan, Jakarta. Music Gallery bertujuan untuk menjadi titik bertemu para penikmat dan pencipta musik agar dapat saling berbagi dan mengekspresikan diri dengan musik sebagai mediumnya. Selain musik, Music Gallery juga mempertunjukkan berbagai bentuk seni visual dan tenant bazaar.
Pada tahun ini, Music Gallery mengangkat tema "An Undiscovered Resonance" yang menyorot segala sesuatu yang memiliki ciri khas unik, kreatif, dan berkualitas tinggi, namun karena satu dan lain hal, masih kurang didengar oleh sebagian besar masyarakat. Mengambil inspirasi visual dari Haight-Ashbury, sebuah distrik di San Francisco yang dipenuhi bangunan-bangunan dan toko-toko berwarna cerah, The 9th Music Gallery menggambarkan musisi independen lokal sebagai permata tersembunyi dengan bakat yang patut diapresiasi oleh lebih banyak orang. Sehubungan dengan tema tersebut, kami berharap para musisi dapat semakin semakin ter-expose, mendapat inspirasi, serta dapat dengan bebas mengekspresikan karya mereka dalam acara kami.
selain menjadi wadah untuk memperdengarkan musisi-musisi lokal, semenjak empat tahun lalu, Music Gallery juga secara rutin mengundang artis internasional untuk menjadi bagian dari lineup-nya. Selain bertujuan memberi kesempatan bagi penikmat musik lokal untuk menyaksikan musisi internasional yang jarang tampil di Indonesia, pertunjukan artis internasional juga dapat menambah perspektif serta menjadi sumber inspirasi baru untuk skena musik lokal. Berbagai artis internasional yang pernah diundang oleh Music Gallery termasuk Tahiti 80, Panama, Last Dinosaurs, Honne, Beach Fossils, dan Novo Amor. Tahun ini, kami mengundang international artist yaitu FUR, band alternative pop asal Inggris yang dikenal dengan beberapa single ternamanya yaitu, "If You Know That I'm Lonely", "Angel Eyes", "Not Enough", dan "Trying".
Berikut rincian harga tiket The 9th Music Gallery:
Presale 1: Rp 95.000
Presale 2: Rp 150.000
Presale 3: Rp 200.000
Normal: Rp 250.000
Early Entry: Rp 125.000
Info : Presale 1 dan 2 terjual habis, sedangkan tiket Presale 3, Early Entry, dan Normal Price masih dijual.

Untuk informasi lebih lanjut:
Follow media sosial The 9th Music Gallery:
Instagram: @musicgallery_
Twitter: @musicgallery_
Facebook: @9thmusicgallery
Atau kunjungi website kami:
www.the-musicgallery.com