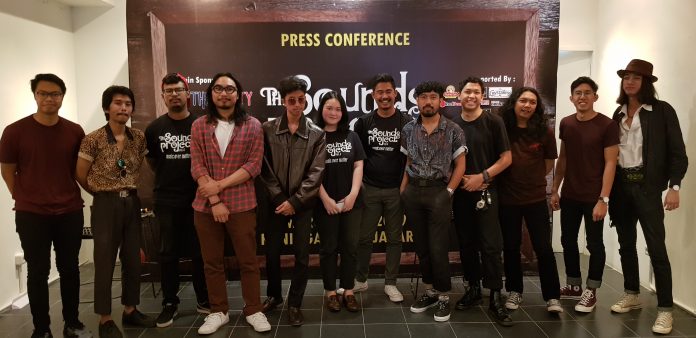 Festival Musik alternatif hadir kembali di tahun 2019 kali ini. The Sounds Project Vol.4 di tahun 2019 mengusung tagline "Music Over Matter" yang memiliki makna bahwa musik melebihi segalanya.
The Sounds Project Vol.4 melakukan ekpansi dari yang sebelumnya satu hari penyelenggaraan, di tahun 2019 mereka menyelenggarakan dalam dua hari. Acara berlangsung pada, hari Jumat (22/3) dan Sabtu (23/3).
The Sounds Project Vol.4, tidak hanya menghadirkan konser musik yang berkualitas aja, mereka juga menghadirkan edukasi buat audience, ada 4 edukasi yang dihadirkan oleh mereka.
"Jadi untuk Sounds Project vol.4 ini, kita dari Sounds Project Vol.3 kita udah nambahin unsur lain juga, kita tidak hanya masukin konser musik aja, kita masukin edukasi buat audience kita," Hal itu diungkapkan Program Director, Dandy Febrianto di Qubicle Center, Jakarta Selatan, (6/3/2019).
Para audience yang hadir di acara ini akan mendapatkan empat edukasi dari The Sounds Project. Dari edukasi yang dilaksanakan oleh mereka, para audience dapat mendapatkan pengetahuan baru.
Salah satunya ada "Akal-Akalan Promotor Muda" di sesi ini ada, "Music Gallery", "Noiswhore", "Lokatara" dan "MagicalFeeeling" yang mereka semua akan saling sharing.
"Jadi Kita bakal sharing sebanyak-banyaknya disitu, jadi audience juga yang mau bikin festival mereka ga usah kaget," ungkap Dandy Febrianto.
The Sounds Project Vol.4 juga akan menghibur para audience melalui adanya karaoke box, music market dan movie area.