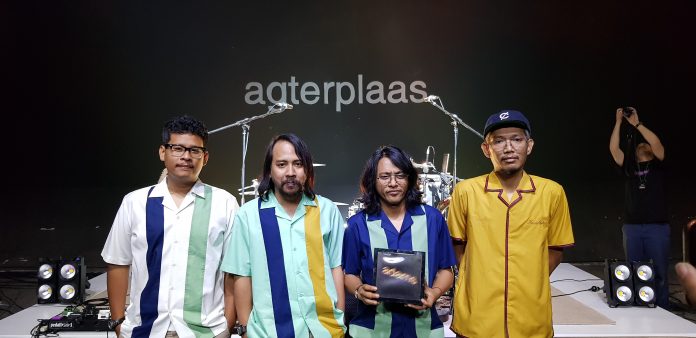 The Adams setelah selama 13 tahun tidak mengeluarkan album baru, pada Rabu,6 Maret 2019, mereka meluncurkan album terbaru 'agterplass'.
Sebelumnya,The Adams terakhir mengeluarkan album "v2.05" di tahun 2006. Jarak album terakhir dengan album terbaru 13 tahun. Di album "v2.05" terkenal dengan lagu-lagu hits 'Halo Beni' dan 'Hanya Kau'.
"Waktu kita cukup, proses kreasi kita santai, kebetulan drummer kita ada studio juga, aryo juga ada studio dan semua kita bikin sendiri," hal tersebut diungkapkan oleh Saleh Husein dalam peluncuran album The Adams di Kemang, Jakarta Selatan, (6/3/2019).
Ide mengenai pembuatan album baru sudah ada sejak tahun 2009. Namun, hal itu urung terlaksana karena beberapa hal, hingga mereka menemukan energi baru untuk memulai rekaman album baru.
"Kita ngomong album baru dari 2009, abis itu hilang kata-kata itu ga ada lagi di kepala kita," ungkap Saleh Husein.
Album 'agterplass' terdiri dari 11 lagu, diantaranya 'Timur', 'Masa-Masa', 'Pelantur', 'Esok' dan beberapa lagu lainnya.
Teks: Ryan Abdul Aziz
Foto: Ryan Abdul Aziz