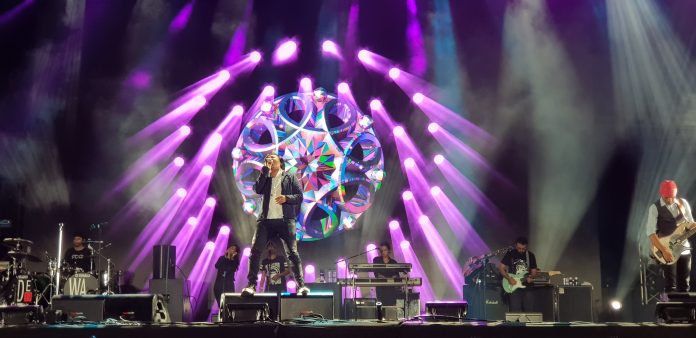 Dewa 19 tampil di hari pertama We The Fest 2019, Jumat (19/07/2019), di JIExpo Kemayoran, Jakarta.
Penampilan Dewa 19 yang tampil bersama Ari Lasso dan Dul Jaelani yang menggantikan ayahnya untuk sementara waktu.
Dewa19 langsung menggebrak panggung pukul 18.18 WIb, mereka langsung membawakan 'Restu Boemi' dan kemudian dilanjutkan dengan 'Cukup Siti Nurbaya'.
"Selamat sore adek-adek semuanya," hal tersebut diungkapkan Ari Lasso ke semua penonton yang hadir petang itu.
Kemudian, Dewa 19 membawakan lagu satu hati, yang dimana sebagaian besar penonton tidak mengetahui lagu tersebut.
"Itu tiga lagu yang kita mainkan tadi, kalian belum ada yang lahir," canda Ari Lasso.
"Saya boleh minta permintaan ga? Saya ingin semua lampu dimatikan dari FOH, agar kita dapat bernyanyi bersama kalian menggunakan flashlight dari HP kalian," ujar Ari Lasso.
Setelahnya, mereka membawakan lagu 'Cinta Kan Membawamu Kembali'.
Ari Lasso mengatakan, "semoga ayahnya bisa berkumpul sama kita semua," hal itu diutarakan Ari Lasso saat memperkenalkan Dul.
Lagu 'Pupus' menjadi lagu berikutnya yang dibawakan, sebelum membawakan lagu tersebut Ari Lasso mengatakan, "ini kalo baladewa saatnya beribadah di lagu ini," lagu yang dimaksud Ari lasso adalah lagu 'pupus'
Ketika lagu 'Kangen' dibawakan sontak seluruh penonton yang hadir di panggung We The Fest Stage menyanyikan secara serentak.
Penampilan Dewa 19 ditutup dengan membawakan lagu 'Separuh Nafasku'.
Teks: Ryan Abdul Aziz
Foto: Ryan Abdul Aziz