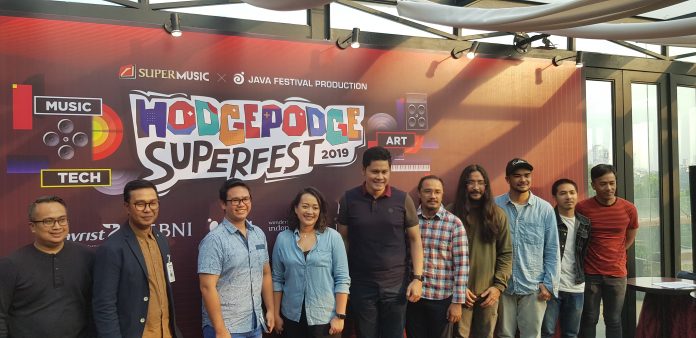 Hodgepodge Superfest memasuki tahun kedua, akan kembali diselenggarakan pada tanggal 31 Agustus dan 1 September 2019, acara akan berlangsung di Allianz Ecopark Ancol, Jakarta.
Festival musik ini menghadirkan beragam musisi dari beragam genre musik, Hodgepodge Superfest merupakan acara yang dipersembahkan Java Festival Production dan bekerja sama dengan Supermusic.
"Karena ini merupakan tahun kedua berjalannya Hodgepodge Superfest, kami segenap tim Jaga Festival Production merasa senang dan gembira dengan kembalinya festival tahunan ini," ujar Dewi Gontha selaku Presiden Direktur PT. Java Festival Production.
Pada lineup yang sebelumnya diumumkan terdapat nama-nama musisi dalam dan luar negeri yaitu Barasuara, GAC, The Japanese House dan Snow Patrol (Acoustic).
Hodgepodge Festival kembali mengumumkan lineup terbaru yaitu The Used, State Champs, Adrian Khalif, Ahmad Abdul, Pamungkas, Reality Club dan masih ada beberapa nama lainnya.
"Kami berharap pengunjung dapat menikmati suasana tersebut sambil menyaksikan performance dan menikmati makanan dan minuman di area festival yang artistik," ungkap Dewi Gontha.
Untuk info mengenai tiket dan jadwal harian Hodgepodge Festival dapat diliat di www.hodgepodgefest.com.
Teks: Ryan Abdul Aziz
Foto: Ryan Abdul Aziz