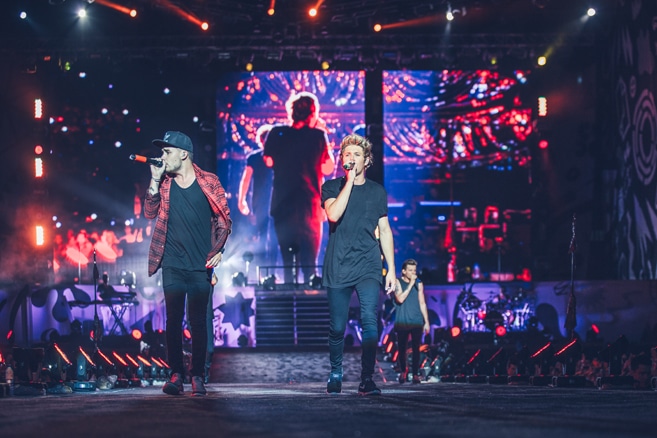 The Boys, begitulah kira-kira para fans menyapa One Direction, boy band asal Inggris yang  tengah menggelar tur dunia bertajuk "On the Road Again Tour 2015" dan baru saja menyambangi Jakarta, Indonesia pada Rabu (25-03).
Minus Zayn Malik, Harry Styles, Louis Tomlinson, Niall Horan dan Liam Payne menyapa sekitar 30,000 fansnya yang memadati Stadiun Gelora Bung Karno, Jakarta. Hujan deras pun tidak menyurutkan pada One Directioners, sebutan untuk fansnya, demi menyaksikan konser tunggal yang dipromotori oleh Ismaya Live dan Sound Rhythm ini. Tiketnya dibandrol dari Rp 1 juta hingga Rp 2.75 juta  sesuai dengan posisi menonton yang disediakan.
Zayn Malik sendiri membuat sebuah langkah besar di tengah-tengah konser dengan keputusan resminya untuk meninggalkan Band. Beberapa media asing menyebutkan keputusannya untuk pergi didasari oleh keinginan untuk hidup tenang layaknya pria usia 22-tahun lainnya.
Meski begitu konser tetap berjalan meriah dengan teriakan yang memekakkan telinga sejak show dimulai di sekitar pukul 9.00. Tidak kurang 23 Lagu andalan dikeluarkan dari awal hingga akhir yang selepas encore ditutup dengan "Best Song Ever", meninggalkan puluhan penggemar dalam kegembiraan yang bercampur dengan  perasaan haru.
Text: Amos Anugrah
Photo: Mellowed High/ Ismaya Live/ Sound Rhythm