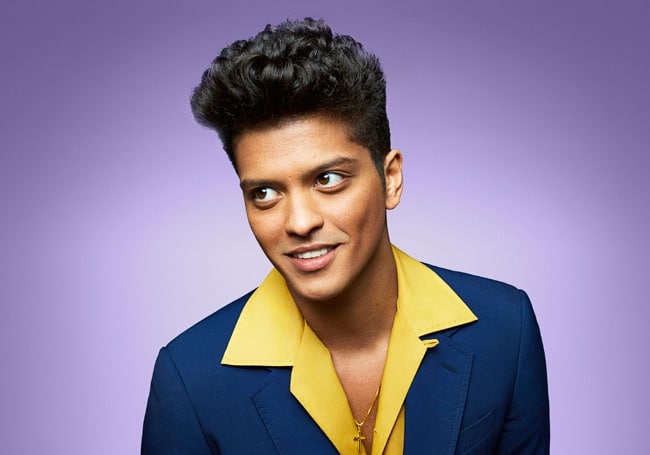 Nama asli Bruno Mars adalah Peter Gene Bayot Hernandez
Bruno Mars lahir di Hawaii, 8 Oktober 1985.
Nama Bruno Mars diberikan oleh ayahnya yang terinspirasi dari seorang pegulat profesional, Bruno Sammartino.
Sebelum menggunakan nama Bruno Mars, dia menggunakan nama Little Elvis untuk beberapa penampilannya di atas panggung.
Bahkan, sejak kecil pun dia sering mengenakan gaya pakaian, bahkan rambut seperti Elvis.
Bruno Mars memiliki darah campuran Puerto Rico dan Filipina.
Orang tua Bruno Mars merupakan pasangan seniman. Ayahnya adalah pemain perkusi, ibunya adalah penari hula.
Bruno Mars pernah memiliki band keluarga yang bernama The Love Notes.
Saudara perempuannya memiliki band bernama The Lylas.
Band yang mengiringi solo karirnya bernama The Hooligans.
Selain memiliki bakat bernyanyi, Bruno mars bisa memainkan drums, keyboard, bass dan guitar.
Bruno Mars memiliki 4 tato yang memiliki makna sangat personal baginya, dia pun memiliki anggapan bahwa tato merupakan simbol yang sakral secara personal.
Dia mengakui, perjalanan musik dan karyanya banyak terinspirasi oleh Michael Jackson, Elvis Presley, Amy Winehouse, Alicia Keys, R. Kelly dan James Brown.
Bruno Mars pernah tercatat sebagai salah satu musisi yang memiliki lagu hit di berbagai chart dengan lagu yang terdiri dari suara vokal dan piano saja.
Selama karirnya, dia mendapatkan 14 nominasi Grammy Awards.
Bruno Mars pernah ditangkap karena kepemilikan kokain sebanyak 2.6 grams di Las Vegas pada bulan September 2010.
Warna favoritnya adalah maroon.
Makanan favoritnya adalah Chicken Adobo.