Monster Of Folk Tour 2014, Deu Galih, Rayhan Sudrajat, serta Ledakan Urbanisasi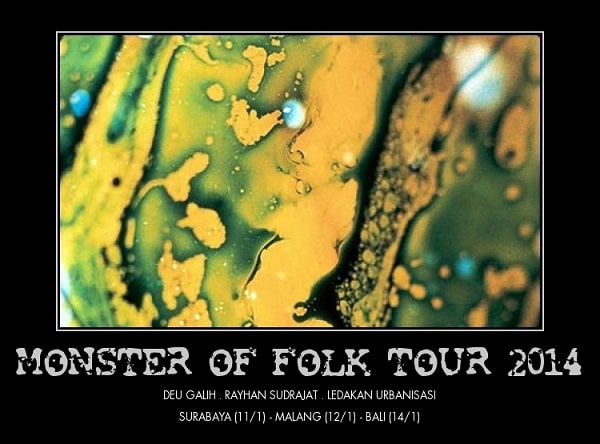 Monster Of Folk adalah tur yang digagas oleh Deu Galih, Rayhan Sudrajat, serta Ledakan Urbanisasi. Tur ini sendiri berkonsepkan solois dan musik folk/acoustic. Nama Monster of Folk sendiri merupakan sebuah guyonan saja, karena di sini hanyalah sekelompok musisi-musisi yang serius tapi santai.
Lalu kata 'Monster of Folk' di sini juga tidak ada sangkut pautnya dengan Monsters Of Folk yang merupakan supergrup hasil gagasan para personil Bright Eyes, My Morning Jacket dan She & Him. Ketiga band yang tergabung sini hanya bermain dengan kata-kata untuk penamaan judul tur.
Tur Monster Of Folk akan dilangsungkan mulai tanggal 10-14 Januari 2013 dan mengambil tempat di wilayah Jawa Timur dan Bali. Untuk wilayah Surabaya, rangkaian tur Monster Of Folk akan diselenggarakan pada Sabtu, 11 Januari 2014 bertempat di C2O Library alternative-space, Malang pada Minggu, 12 Januari 2014 di Houten Hand coffee & beer house, serta Bali pada Selasa, 14 Januari 2014 di Warung Mano restaurant. Tur ini terselenggara berkat kerjasama beberapa pihak seperti C20 Library & Collabtive, Malang Sub Pop, juga Mave Magazine.