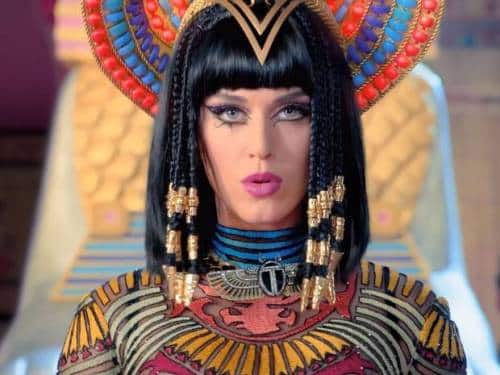 Nielsen Broadcast Data Systems telah mengeluarkan hasil tengah tahun 2014 untuk pemutaran digital terbanyak di Amerika Serikat, dan Katy Perry muncul sebagai nomor pertama. Mengacu kepada Billboard.biz report, nomor "Dark Horse" dan videonya yang kontroversial mencapai lebih dari 188 juta kali di media digital seperti YouTube dan Spotify sejak Januari. Lebih banyak 44 juta kali dari pesaing terdekatnya, "All Of Me" milik John Legend.
10 lagu teratas dimainkan 1,24 miliar kali jika digabungkan, tujuh persen lebih sedikit dibandingkan tahun lalu – hal ini menurut Billboard dikarenakan tahun lalu "Harlem Shake" milik Baauer dimainkan 438 juta kali karena publikasi viral. Lagu yang berada di posisi atas lainnya adalah "Let It Go" milik Idina Menzel dan kolaborasi Lil Jon dengan DJ Snake, "Turn Down For What."
Meskipun lagu "Happy" milik Pharrell berada di peringkat 4 tangga lagu streaming, lagu ini mendapatkan peringkat paling atas untuk lagu yang paling banyak diunduh. Kesuksesan "Let It Go" di YouTube and Spotify juga dibenarkan oleh data Nielsen yang lain; soundtrack Frozen ini adalah penjualan terbanyak di tahun 2014 sejauh ini.
Lihat di bawah untuk 20 lagu paling banyak diputar di tahun 2014 sejauh ini.
1. Katy Perry feat. Juicy J, "Dark Horse," 188,236,000 streams
2. John Legend, "All Of Me," 144,669,000 streams
3. Jason Derulo feat. 2 Chainz, "Talk Dirty," 142,478,000 streams
4. Pharrell Williams, "Happy," 135,197,000 sreams
5. Idina Menzel, "Let It Go," 129,128,000
6. Iggy Azalea feat. Charli XCX "Fancy," 111,911,000 streams
7. Pitbull feat. Ke$ha, "Timber," 106,081,000 streams
8. DJ Snake & Lil Jon, "Turn Down For What," 102,340,000 streams
9. Beyonce feat. Jay Z, "Drunk In Love," 92,694,000 streams
10. OneRepublic, "Counting Stars," 91,494,000 streams
11. A Great Big World & Christina Aguilera, "Say Something," 86,581,000 streams
12. Miley Cyrus, "Wrecking Ball," 83,736,000 streams
13. Ariana Grande feat. Iggy Azalea, "Problem," 82,694,000 streams
14. Passenger, "Let Her Go," 82,672,000 streams
15. Bastille, "Pompeii," 80,755,000 streams
16. Lorde, "Royals," 79,720,000 streams
17. Eminem feat. Rihanna, "The Monster," 72,762,000 streams
18. PSY, "Gangnam Style," 72,706,000 streams
19. Chris Brown feat. Lil Wayne & French Montana OR Too $hort, "Loyal," 70,537,000 streams
20. YG feat. Jeezy & Rich Homie Quan, "My Hitta," 69,137,000 streams