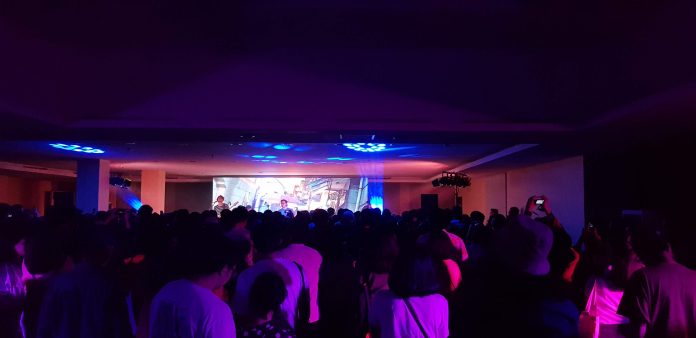 Polka Wars menjadi band pembuka selanjutnya setelah Circarama di konser perdana 'Phum Viphurit' di Indonesia yang diselenggarakan oleh Lokatara Live di Ballroom Grand Kemang, Hotel, Jakarta Selatan, Sabtu (11/8/2018).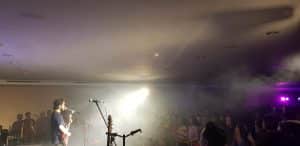 Sebagai pertanda dimulainya Polka Wars, diiringi lighting gelap mulai terdengar suara backsound hujan deras berselang masuknya personil Polka Wars yang digawangi oleh Karaeng Adji (Gitar+ Vocal), Giovanni Rahmadeva (Drum), Billy Saleh (Gitar), dan Xandega Tahajuansyah (Bass) dibantu oleh sang additional saxophone.
Billy Saleh sang gitaris mulai menhentakan gitarnya, intro untuk lagu 'Horse's Hooves' menandankan dimulainya penampilan band yang telah malang melintang di skena indie tanah air sejak berdiri di tahun 2011, dilanjutkan dengan beberapa lagu andalan mereka 'Seek', 'Mapan', 'Rekam Jejak', hingga lagu 'Rangkum' yang berhasil masuk nominasi Indonesian Choice Awards for Music Video of The Year di tahun 2018.
Penampilan Polka Wars kian spesial dengan membawakan lagu terbaru mereka untuk pertama kali secara live yang berjudul 'Mandiri' dimana dengan format Karaeng Adji bernyanyi sendiri dengan gitarnya tanpa diiringi oleh band yang lain.
"Mohon maafkan rekan-rekan saya yang memiliki stamina yang kurang prima sehingga saya jadi tumbal untuk main sendiri biar mereka bisa istirahat" gurau Karaeng Adji di atas panggung sambil disambut decak tawa penonton.
Terakhir, mereka membawakan lagu andalan mereka di tahun 2015 'Mokole' sebagai penutup sambil menyampaikan rasa terima kasihnya karena telah dipercaya untuk membuka konser 'Phum Viphurit' dalam perhelatan perdana nya di Indonesia.
Teks:Aldi Adrian Hartanto
Foto:Ryan Abdul Aziz