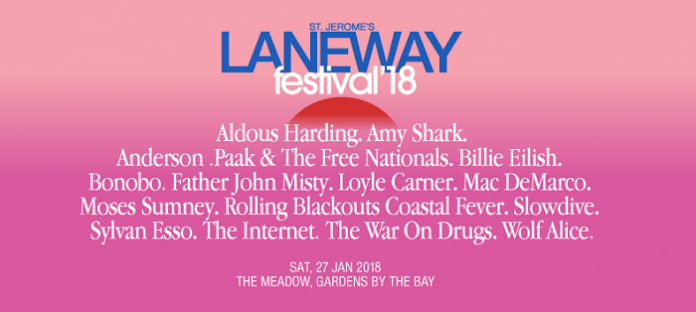 Laneway Festival Singapura kembali digelar untuk tahun 2018 ini. Hampir sama setiap tahunnya, tanggal penyelenggaraan untuk tahun besok jatuh pada 27 Januari 2018, dengan masih mengambil tempat di taman serba guna kebanggaan masyarakat Singapura, yaitu Gardens by the Bay.
Laneway Festival yang dikenal selalu menghadirkan line-up andalan pada setiap penyelenggaraannya, terlihat masih terus berbenah dini kearah yang lebih baik lagi, khususnya untuk tahun 2018 besok. Bagaimana tidak, Laneway Festival telah mengumumkan nama-nama terbesar yang saat ini menjadi buah bibir industri musik internasional.
Dimulai dari Anderson .Paak sang nomine Grammy yang kali ini hadir dengan band pengiring The Free Nationals, kemudian kembalinya wonderkid Mac DeMarco ke depan publik Singapura setelah di tahun 2015 lalu dirinya juga didapuk sebagai salah satu pengisi acara Laneway Festival, lalu legenda shoegaze Slowdive adalah sederet nama-nama yang didapuk sebagai headliner.
Tidak hanya menghadirkan yang kawakan, Laneway Festival Singapura juga mendatangkan para penampil segar seperti Father John Misty, Wolf Alice, Bonobo, The War On Drugs, Aldous Harding, Moses Sumney dan masih banyak lainnya.
Untuk pembelian tiketnya sendiri, para calon penonton bisa mendapatkan langsung melalui situs resmi Laneway Festival Singapura 2018. Tiket terbagi kedalam beberapa kategori yang masing-masing dibanderol sebesar $150 (Tiket grup, 5 orang atau lebih), $158 (Tiket Standar) dan $200 (Tiket on the spot).