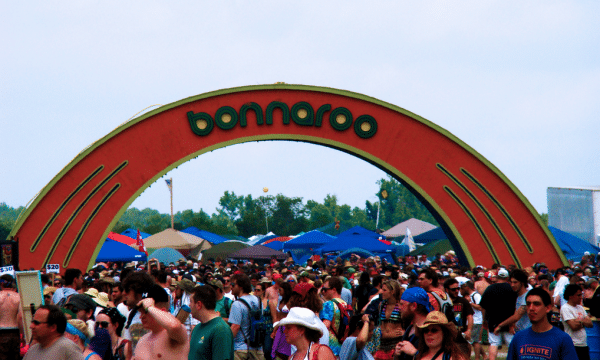 Bonnaroo Music and Arts Festival merupakan festival musik yang biasa dilaksanakan selama 4 hari di Great Stage Park.
Festival ini diselenggarakan oleh Superfly Presents dan AC Entertainment di area seluas 2.8 km persegi.
Festival ini selain menyajikan pertunjukan musik dari berbagai dunia, juga menyajikan craftsmen dan artisans yang menjual produk-produk unik, makanan, minuman, silent disco, komedi, film dan ferris wheel.
Bonnaroo Music Festival dinobatkan sebagai 50 Moments That Changed Rock & Roll versi majalah Rolling Stone.
Selain itu dinobatkan sebagai "Festival of the Decade" versi Consequence of Sound dan "10 Best Festivals" versi GQ Magazine.
Kata Bonnaroo diambil dari istilah yang dipopulerkan oleh penyanyi R&B, Dr. John melalui album Desitively Bonnaroo.
Bonnaroo artinya "a really good time".
Pertama kali festival Bonnaroo ini diselenggarakan pada tahun 2002 yang mengaku terinspirasi oleh festival musik di tahun 90-an seperti Coachella dan Glastonbury.
Pertama kali diselenggarakan tanpa iklan tradisional, tiket sudah habis dalam waktu 2 minggu.
Pada tahun 2005, Bonnaroo pertama kali menyajikan panggung komedi untuk comedian Jim Breuer.
Pada tahun 2010, Bonnaroo membangun panggung permanen yang menjadi panggung utama.
Pada tahun 2007, ketika perluasan area festival terjadi, Bonnaroo mulai menyajikan camping area.
Bonnaroo Music Festival menjadi media untuk beberapa kampanye, mulai dari climate change legislation hingga lingkungan.
Setiapnya, penonton yang datang dan menghadiri Bonnaroo Music Festival sebanyak 70,000 – 80,000 pengunjung.