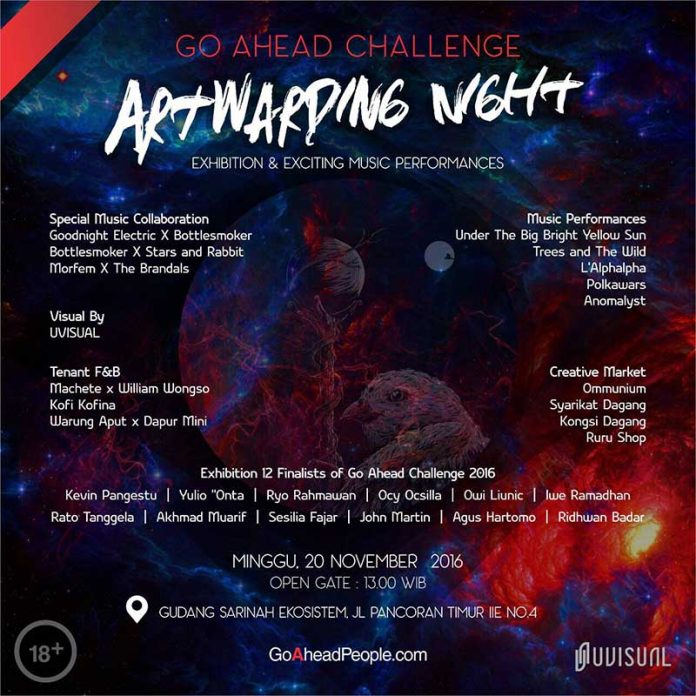 Rangkaian kegiatan kompetisi kreatif Go Ahead Challenge 2016 telah mencapai tahap final. Di acara ini akan diumumkan 4 pemenang dari 12 finalis yang mewakili subkultur visual art, fotografi, musik, dan juga style.
Go Ahead Challenge Artwarding Night 2016 akan menjadi panggung final dan malam apresiasi bagi para 12 finalis yang berkolaborasi dengan para seniman panutan seperti Rama Dauhan, Agan Harahap, Dendy Darman, Seringai, dll. Di acara ini, karya dari para finalis hasil seleksi kurator Go Ahead Challenge Arian13, Ade Darmawan, Anton Ismael, Auguste Soesatro dan Arifin Windarman akan dipamerkan di "A Space".
Perayaan puncak dan pengumuman pemenang akan dimeriahkan oleh penampilan kolaborasi dari para finalis subkultur musik, Morfem x The Brandals, Goodnight Electric x Bottlesmoker dan Bottlesmoker x Stars and Rabbit. Tidak ketinggalan, penampilan spesial dari The Trees & The Wild, Polka Wars, L'Alphalpha, Anomalyst, dan Under The Big Bright Yellow Sun yang akan diselenggarakan pada hari Minggu, 20 November 2016, mulai pukul 13.00 di Gudang Sarinah Ekosistem Jl Pancoran Timur II/4, Jakarta Selatan.