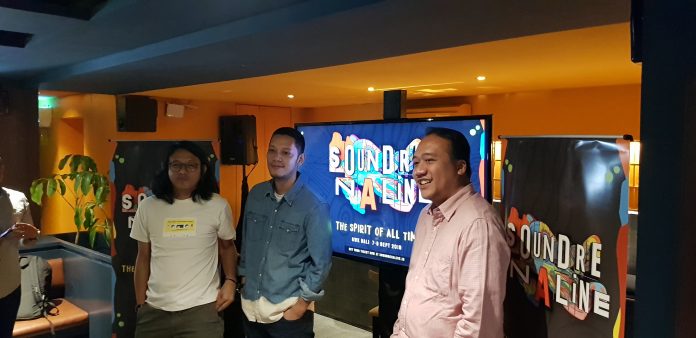 Soundrenaline akan kembali hadir di tahun 2019, mengangkat tema 'The Spirit of All Time'. Pergelaran festival musik terbesar di Asia Tenggara tersebut diselenggarakan tanggal 7 dan 8 September 2019, di Garuda Wisnu Kencana, Bali.
Memasuki tahun penyelenggaraan ke 17 Soundrenaline 2019, Andhika Putra dari Level 7 mengatakan, adanya tema baru yang dapat menunjukan perjalanan progresif Soundrenaline dengan berbagai karya yang menginspirasi.
Berangkat dari tema 'The Spirit of All Time', Soundrenaline 2019 akan menyajikan sebuah timeless festival experience yang mampu memberikan inspirasi lewat ragam karya terbaik.
Ada beberapa figur yang terlibat sebagai music curator Soundrenaline 2019 yaitu Widi Puradireja, Aulia Rizky dan Kimo Rizky. Sedangkan, para art director yang terlibat di Soundrenaline 2019 yaitu Ade Darmawan, Saleh Husein dan Isha Hening.
Tiket early bird mulai bisa dibeli pada tanggal 28 Juni 2019, dengan harga Rp 200.000. Untuk informasi lebih lengkap dapat dilihat di www.soundrenaline.id.
Teks: Ryan Abdul Aziz
Foto: Ryan Abdul Aziz