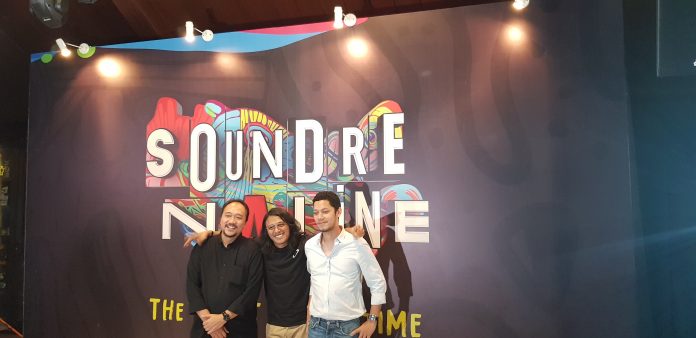 Memasuki penyelenggaraan ke 17, Soundrenaline kembali hadir mengusung semangat baru The Spirit of A Time akan membawa musisi bersama kolabolator ternama dari berbagai bidang. Soundrenaline yang akan berlangsung pada 7 dan 8 September 2019, di Garuda Wisnu Kencana, Bali.
Beberapa musisi yang bakal tampil antara lain Seringai, Barasuara, Hivi, Ardhito Pramono, Tulus, Kunto Aji, Jamrud dan lainnya.
"Tak hanya sederet musisi Berbakat yang terlibat, namun juga berbagai figur ternama akan berkolaborasi bersama demi menyuguhkan timeless festival experience", ujar Andhika Putra dari Level 7.
Di tahun ke 17 ini Soundrenaline yang setiap tahun menyelenggarakan salah satu festival terbesar di Asia Tenggara, Mewarnai tahun ini dengan Menghadirkan festival yang timeless, yang dimana tak terbatas oleh waktu.
"Kita buat sebuah festival yang timeless, apa yang dulu seru kita coba angkat lagi, apa yang sekarang seru kita angkat lagi," kata Andhika.
Elemen musik mulai dari populer, nostalgic, hingga rock 'n roll dapat ditemui di panggung soundrenaline yang sarat akan unsur seni selain sajian musik.
"Soundrenaline yang telah menjadi sebuah festival terbesar di Asia Tenggara selalu konsisten untuk menghadirkan berbagai kolaborasi unik dan progresif. Pada tahun ini ada empat elemen seni yang akan mewarnai area Garuda Wisnu kencana yaitu kontemporer, media baru, pop dan street art," ujar Saleh Husein selaku Art Director.
Teks: Ryan Abdul Aziz
Foto: Ryan Abdul Aziz