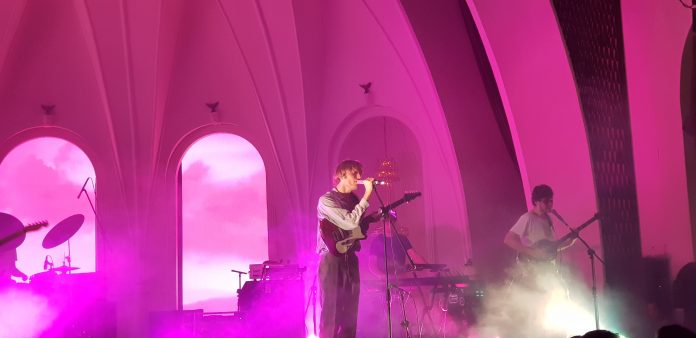 Jakob Ogawa penyanyi kewernegaraan Norwegia, yang beraliran indie pop tersebut tampil pertama kali di Jakarta. Acara yang diselenggarakan oleh lokataralive, berlangsung di The Pallas, SCBD, Jakarta, pada (19/5).
Penampilan Jakob Ogawa di Jakarta merupakan rangkaian tur Asia yang dimulai dari Hong Kong. Jakob Ogawa akan mengakhiri kunjungan tur nya di Asia, di kota Bangkok, pada 22 Mei 2019.
Lokataralive sebagai penyelenggara acara, menampilkan Rayssa Dyanta sebagai pembuka acara. Rayssa Dynta tampil pukul 20.30 WIB. Selama 30 menit penampilannya dia membawakan beberapa lagunya seperti 'Something About Us', 'Hands' dan 'Under Cover'.
Para penonton yang telah menantikan Jakob ogawa tampil, akhirnya pukul 21.35 WIB, dia naik ke atas panggung dengan membawakan 'Sunshine Girl'.
"Saya senang berada disini bersama kalian semua," ujar Jakob Ogawa.
Jakob Ogawa membawakan beberapa lagu hits nya seperti 'All I Wanna Do', 'Velvet Light','You Might Be Sleeping' dan 'All Your Love'.
"Disini (Indonesia) cuacanya sangat panas, berbeda dengan di negara saya yang dingin," hal itu diutarakan oleh Jakob Ogawa dari atas panggung.
Konser yang berlangsung selama 1 jam tersebut, ditutup dengan lagu 'Let It Pass' oleh Jakob Ogawa.
Teks: Ryan Abdul Aziz
Foto: Ryan Abdul Aziz