Perhelatan Walk to Garage sudah memasuki angka 5. Postrock Bandung seakan tidak pernah
lelah untuk menjembatani para musisi berbakat. Bukan tentang durasi umur lamanya sebuah band ataupun musisi menggerakan jemari dalam bermusik, tapi kami, Postrock Bandung ingin menjadikan Walk to Garage menjadi sebuah wadah ekspresi setiap band yang ingin menumpahkan hasratnya.
Di event tahunan yang ke-5, mempersembahkan Walk to Garage dengan menampilkan Rayhan
sudrajat, LEF, A Slow In Dance, Zoo Elephant. Digelar di memphis lounge 29 april 2015 nanti, Seakan membuktikan bahwa hanya "kesempatan mengapresiasikan saja yang menjadi pembeda para musisi baru dengan para pelaku seni yang selama ini memang sudah malang melintang di industri musik pada umumnya".
***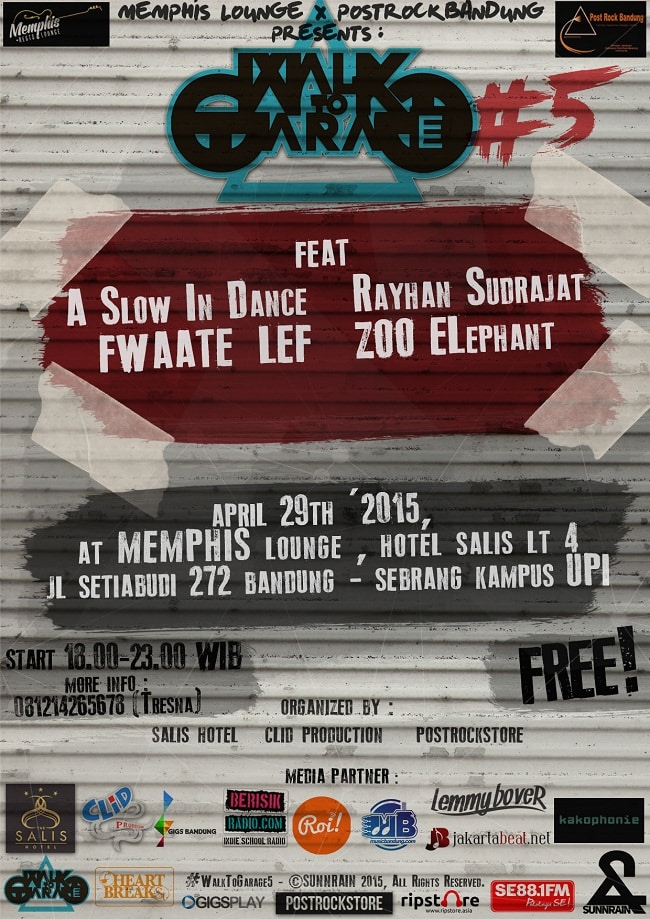 Walk To Garage 5
Rabu, 29 April 2015
18.00-selesai
Tempat:
Memphis lounge, Bandung
Dimeriahkan oleh:
Rayhan sudrajat
LEF
A Slow In Dance
Zoo Elephant
FWAATE
ESR
Tiket:
Free