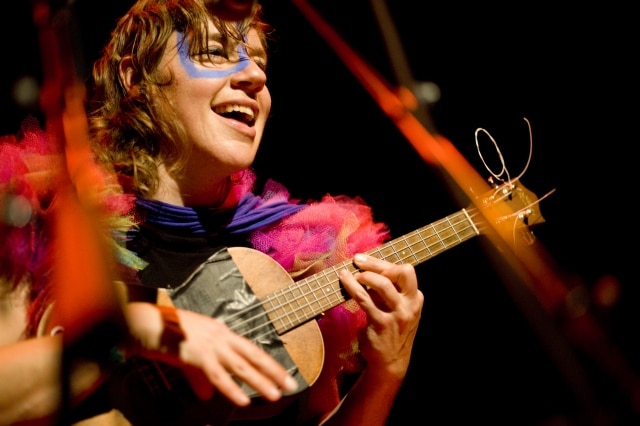 Tune-Yards atau biasa ditulis dengan gaya tUnE-yArDs ini merupakan proyek musik milik Merrill Garbus.
Garbus merupakan seniman asal Amerika yang juga dikenal dengan kehebatannya memainkan berbagai alat musik atau multi-instrumentalist.
Alat musik yang sering dia mainkan di atas panggung adalah drum loops dan ukulele. Namun gaya bernyanyinya pun menjadi nilai tambahan untuk karakternya yang unik.
Garbus lahir pada tahun 1979, dibesarkan di New York dan Connecticut.
Dia mengajak Nate Brenner untuk bergabung di tUnE-yArDs dan memainkan electric bass.
Garbus selain menjadi musisi, juga dikenal sebagai puppeteer dalam kelompok Sandglass Theater di Vermont.
Sebelum bergabung bersama tUnE-yArDs, Garbus pernah tergabung dalam kelompok musik bernama Sister Suvi dan dia memainkan ukulele.
tUnE-yArDs pertama kali merilis album berjudul BiRd-BrAiNs secara self-released menggunakan recycled cassette tape.
Album tersebut hanya direkam menggunakan analog voice recorder.
Pada tahun 2009, akhirnya album tersebut dirilis dalam format vinyl oleh Marriage Records.
Mendapatkan respon yang positif, akhirnya tUnE-yArDs mendapatkan kesempatan untuk me-remastered album di Abbey Road Studios bersama Christian Wright.
Album ke-2 yang diberi judul W H O K I L L pada tahun 2011 mendapatkan respon positif dari berbagai media, termasuk Time Magazine, Rolling Stone, Spin Magazine hingga New York Times.
Lagu "Fiya" menjadi lagu yang dipilih oleh Blackberry untuk dijadikan lagu iklan untuk produk Blackberry Torch.
Selain itu juga, lagu "Gangsta" dijadikan sebagai lagu tema yang digunakan oleh program TV seperti Orange Is the New Black, Weeds dan The Good Wife.