MOVEMENT : Move On Moment 2015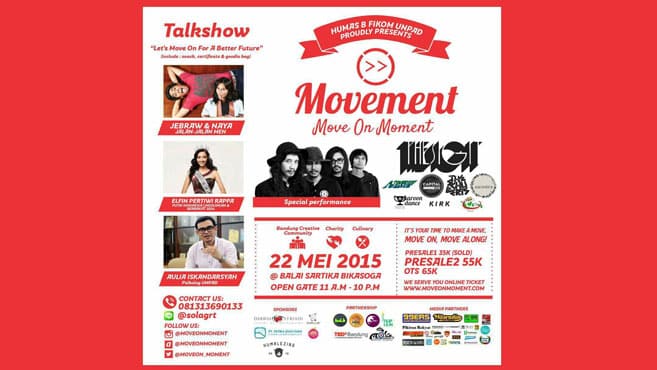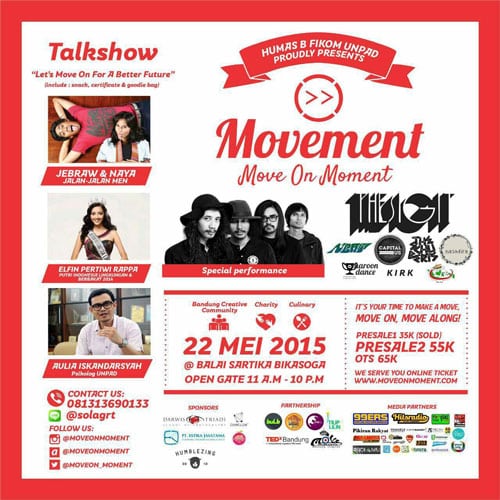 HUMAS B 2012 FIKOM UNPAD
PROUDLY PRESENT
MOVEMENT
Move On Moment 2015
You must make a decision that you are going to move on.
This event consist of:
TALKSHOW
(Include certificate, snack, lunch)
Session 1:
Aulia Iskandarsyah
(Psikolog)
Session 2:
Elfin Pertiwi Rappa
(Runner Up Putri Indonesia 2014, Finalis Miss International 2014)
Session 3 :
Jebraw & Naya
(Host Jalan-Jalan Men & malesbanget.com)
And also
COMMUNITY PERFORMANCES
Many communities in Bandung will perform in Movement!
AWARDING NIGHT
for Photo and Vidgram Competition from Darwis Triadi School of Photography
CHARITY MOMENT
Book donation for children in Morotai.
MUSIC PERFORMANCES come from:
-NEAT
-Capital Us
-NASADIRA
-The Schuberts
SPECIAL PERFORMANCE:
THE S.I.G.I.T
This will be held on FRIDAY May 22, 2015.
at Balai Sartika – Bikasoga Bandung.
Open Gate: 11.00 – 21.00
Grab your ticket now!
This is a full-package ticket (from talkshow until drop), so we make sure it will not disappoint y'all 🙂
Pre Sale 1: 35k (SOLD OUT)
Pre Sale 2: 55k (Available)
Normal Price: 65k
We serve you online ticketing on: www.moveonmoment.com
Dont miss this chance to make a change,
Let's MOVE ON!
Contact Us:
LINE ID solagrt
PHONE 081313690133
AskFm & Instagram @moveonmoment
www.moveonmoment.com