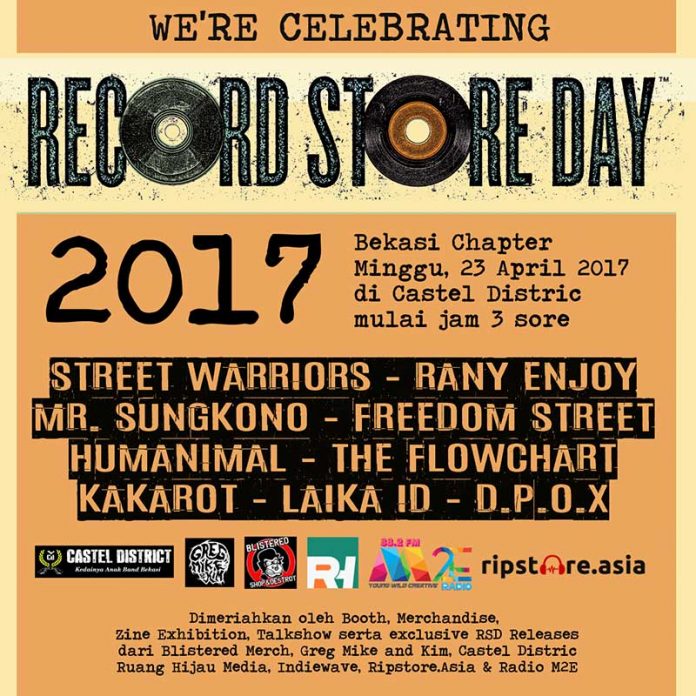 Sempat surut di era 2010, skena Bekasi kembali terbakar setahun belakangan. Gigs musik kembali rutin, venue kian tumbuh, dan komunitas pecinta musik independen Kota Patriot semakin kuat membentuk jejaring.
Castel Distric, dulunya adalah Studio Dromotora adalah lokasi bersejarah bagi perjalanan skena musik Independen di Bekasi yang masih bertahan hingga hari ini. Terletak di samping kantor Imigrasi Jl Bulak Kapal Bekasi, Castel Distric tak hanya menjadi tempat kumpul para musisi Jabodetabek dan sekitarnya tapi juga menjadi sentral kegiatan musik Independen yang belakangan hari ini.
Hal ini yang mendorong beberapa kawan-kawan label, media dan tokoh pegiat scene untuk secara officially ikut dalam perayaan Record Store Day 2017 dengan menampilkan booth, merchandise, zine exhibition, talkshow serta exclusive RSD Releases dari Blistered Merch, Greg Mike and Kim, Castel Distric, Ruang Hijau Media, Indiewave, Ripstore.Asia & Radio M2E.
Digelar di Castel Distric, kegiatan kolektif ini akan dilangsungkan pada Minggu, 23 April besok mulai pukul 3 sore sampai selesai. Turut hadir pula 9 band lokal kota Bekasi dan Jakarta sebagai penampil yakni:
Street Warriors
Rany Enjoy
Mr. Sungkono
Freedom Street
Humanimal
The Flowchart
Kakarot
Laika ID
D.P.O.X
Sementara di tempat terpisah di hari yang sama, Bekasi juga punya 1 acara Record Store Day juga di Kedubes Bekasi, Jatiasih dengan menampilkan Nick sebagai line up utamanya.