HAMMERSONIC FESTIVAL 2017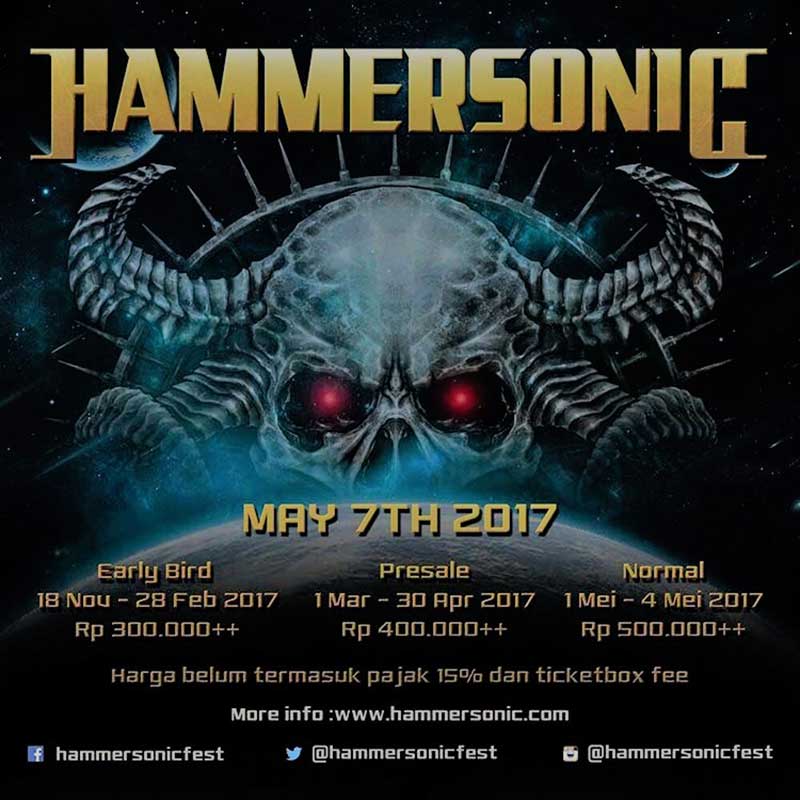 Setelah Hammersonic Festival 2016 sukses digelar di Jakarta pada tanggal 17 April 2016 lalu. Kini Revision Live Entertainment kembali menggelar Jakarta International Metal Festival, HAMMERSONIC FESTIVAL 2017 yang akan diselenggarakan pada tanggal 7 Mei 2017 di Ecopark Ancol – Jakarta. Menampilkan sederet band metal terbaik Indonesia mulai dari Seringai, Revenge The Fate, Killharmonic, Trojan, Vallendusk, hingga band jagoan Internasional sekelas Megadeth (Amerika), The Black Dahlia Murder (Amerika), Whitechapel (Amerika), Northlane (Australia), Earth Crisis (Amerika), Desecravity (Jepang), Entombed AD (Swedia), Truth Be Known (Singapura), Massacre Conspiracy (Malaysia), Flesh Juicer (Taiwan), Krisiun (Brazil), Claim The Throne (Australia), Depravity (Finlandia), Lord (Australia) dan masih banyak lagi line up band yang akan diumumkan pada sesi selanjutnya.
Pada Hammersonic Festival 2017, Revision Live selaku promotor kembali memberikan penghargaan HAMMERSONIC AWARDS kepada musisi atau band Metal di Indonesia pada pra acara puncak yang bernama HAMMERSONIC METAL CONVENTION 2017.
Akan ada beberapa Kategori dan Nominasi yang dikurasi dengan baik oleh pihak Revision Live yang akan dirilis pada bulan April 2017 mendatang dan melibatkan pengamat musik Metal Indonesia. Selain Hammersonic Awards, pada segmen HAMMERSONIC METAL CONVENTION 2017 juga memiliki rangkaian acara lainnya seperti Meet The Agency & Label, Coaching Clinic, dll.
Saat ini tiket Hammersonic Festival sudah bisa didapatkan secara online di website www.hammersonic.com serta secara offline di seluruh gerai Indomaret dan jaringan ticket box resmi Hammersonic Festival. Terdapat tiga kategori harga tiket Hammersonic Festival, diantaranya:
Early Bird Rp. 300.000 (sampai dengan 28 Februari 2017)
Presale Rp. 400.000 (1 Maret – 30 April 2017)
Normal Rp. 500.000 (1 Mei – 4 Mei 2017)