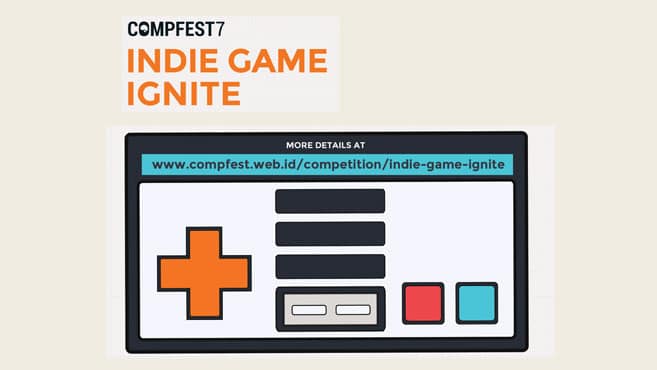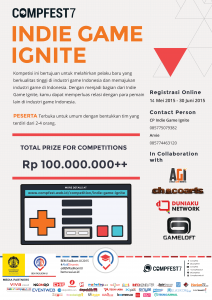 CompFest7, Depok – Maraknya game-game karya anak bangsa yang tidak kalah saing dengan game internasional, menginspirasi pengembang game lokal untuk semakin mengembangkan inovasi-inovasi di dunia game. Melihat hal tersebut, Compfest7 mempunyai cara lain dalam mengapresiasi pengembang game Indonesia dengan mengadakan kompetisi game development, yaitu Indie Game Ignite.
Kompetisi ini bertemakan The Future of Indie Game. Sesuai dengan temanya para peserta didorong untuk berkreasi, berkembang, dan berinovasi tanpa batas. Peserta dapat membuat game dengan tema apapun. Kompetisi ini dapat diikuti oleh umum dan terdiri dari tim minimal 2 – 4 orang.
Menurut Pravira Madyakurnia, Person In Charge Indie Game Ignite CompFest7, mengikuti kompetisi game development CompFest7, merupakan langkah awal untuk terjun ke industri game dan dapat memperluas relasi dengan para pengembang game di indonesia.
Yang paling spesial tahun ini adalah hadiahnya yang menarik. Pemenang kompetisi ini akan berkesempatan untuk menghadiri GDG (Game Developers Garhering) 2015 serta hadiah bernilai jutaan rupiah.
Pendaftaran akan dibuka pada tanggal 14 – 30 Mei di situs compfest.web.id/competition/indie-game-ignite. Jadi, tunggu apa lagi. Segera daftarkan tim terbaikmu dan turut berinovasi untuk perkembangan industri game nasional.
Competition CompFest7 sendiri merupakan kompetisi IT berskala nasional yang menawarkan total hadiah 100 juta rupiah. Jajaran kompetisi yang diadakan CompFest7 merupakan salah satu bentuk usaha kami dalam meningkatkan kesadaran terhadap teknologi informasi di Indonesia, serta memberikan solusi dari berbagai persoalan yang terjadi di Indonesia melalui teknologi informasi. Tidak hanya itu, kompetisi CompFest7 juga merupakan cara kami menunjukan ke masyarakat luas, bahwa sumber daya manusia di Indonesia dalam bidang teknologi informasi juga tidak kalah saing dengan yang ada di luar negeri.
Untuk informasi lebih Lanjut kunjungi website CompFest di compfest.web.id dan terus pantau linimasa kami di twitter @CompFest dan Facebook CompFest untuk informasi mengenai kompetisi lainnya di CompFest7. (Shirin/Press CompFest7)